Spring Vegetable seminar
March 8, 2014
Starting at 10:30am to noon
David Rodriguez from the Agri-life Extension service will show you how to properly plant, grow and harvest your vegetables. David has a ton of experience in gardening and would love to share his knowledge and passion of vegetables with you. Seminar is free but any donations to the Children's garden is welcomed.
---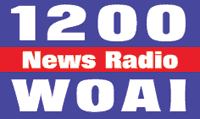 WOAI Live broadcast
March 8, 2014
Starting at 7am to 10am
Join David Rodriguez from the Agri- life Extension service and host Bill Rohde from the WOAI Home & Garden Show in this live broadcast at Fanick's.
---
Espoma Days Sale
March 8 & 9th, 2014
Starting at 10:30am to Noon
Come out this weekend and visit with the Espoma company representative and learn why Espoma is leading the industry in all natural and organic products. Free samples to be given away while supplies last. Espoma sale - Buy any 18# bag or larger of Espoma fertilizer and get a select 4# bag FREE! This sale is good for this Saturday and Sunday so stock up on Espoma products and save a few bucks!
---
Vegetables
Spring is just around the corner and Fanick's has some of the popular vegetables transplant in like tomatoes & peppers. Download your free Fanick's Gardening calendar that will show you the best days to plant above ground and below ground vegetables along with the best days for cultivating. Fanick's carries the popular Earthbox and the rebuild kits along with squarefoot gardening boxes and everything needed to fill it. Come see us for all your gardening needs
Onion transplants season is here
Fanick's has fresh onion plants in stock. Choose from the popular 1015Y, White Bermuda, Texas Early white & Southern Red Belle. We now have the Candy and Candy apple red onion plants in stock too.
Bare Root and Potted Fruit Trees
It's fruit tree season and Fanick's is loaded with plenty of bareroot & potted fruit trees. Choose from peaches, plums, pears, apples, cherries, pomegranate, figs, citrus, olives and more. We also carry the popular 4-in-1 fruit trees made for small yards or limited spaces. Download our free 2014 Fruit tree guide here. to preview what we will have. Fanick's has the largest selection of fruit trees in Texas and only carries varieties that produce in our area. With knowledgeable staff you can be sure you will get a tree that produces fruit for your area.
Roses are In
The 2014 roses are now in. Choose from Hybrid tea, floribunda, shrub, miniature, antique or ground cover roses. Lots of varieties to choose from and with Fanick's expert knowledge you can be sure to get the very best advice on how to grow these beautiful plants. Download our 2014 Rose guide to preview our vast rose selections.
Greenhouse Plastic
Fanick's has their new Greenhouse plastic in stock and sold by the foot. Choose from 12ft, 16ft, 24ft, or 40ft wide plastic. We only stock real Greenhouse plastic in 4mil thickness so you know your getting the highest quality plastic with excellent light transmission to protect your plants. Don't be fooled into cheap construction plastic as it's not UV protected and will fail with sunlight exposure and cold weather allowing your precious plants to freeze. Don't forget to ask about the 8ft aluminum channel and stainless steel wiggle wire for attaching your plastic to your structure.
Sorry, but at this time, Fanick's does not ship
Bedding Plants
Fanicks has the best selection of annual plants in town. Choose from a regular 6 pack or move up to the jumbo super 6 pack if you want even larger plants. Need a lot? Fanicks can special order what you need and we do offer quantity discounts too. Call us at 210-648-1303 for up to date inventory.